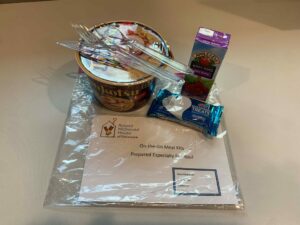 The families we serve are often on the go between doctor appointments, hospital visits, and travel to and from the House and Ronald McDonald Family Rooms®. Care kits provide families with the essentials so they can stay by their child's side. All students and families can participate in our Family Care Kit Program. Preparing these kits is a great project for families, large groups, or individuals. Volunteers hours can be awarded to students who have a service hour requirement.
To get started, fill out the form on this page. Someone will be in touch to coordinate your Care Kit project!
Interested in assembling Family Care Kits? Get started by filling out the form below.